Product Summary
The INA154U is a high slew rate, unity-gain difference amplifier consisting of a precision op amp with a precision resistor network. It operates on ±4V to ±18V supplies. The INA154U provides this circuit function without using an expensive precision resistor network. The INA154U is available in a SO-8 surface-mount package and is specified for operation over the extended industrial temperature range, –40℃ to +85℃.
Parametrics
INA154U absolute maximum ratings: (1)Supply Voltage, V+ to V–: 40V; (2)Input Voltage Range: ±80V; (3)Operating Temperature: –55℃ to +125℃; (4)Storage Temperature: –55℃ to +125℃; (5)Junction Temperature : +150℃; (6)Lead Temperature (soldering, 10s): +300℃.
Features
INA154U features: (1)Designed for low cost; (2)low offset voltage: ±750μv max; (3)low offset drift: ±2μv℃; (4)low gain error: ±0.05% max; (5)wide bandwidth: 3MHz; (6)high slew rate: 14v/μs; (7)fast settling time: 3μs to 0.01%; (8)wide supply range: ±4v to ±18v; (9)low quiescent current: 2.4mA; (10)so-8 surface-mount package.
Diagrams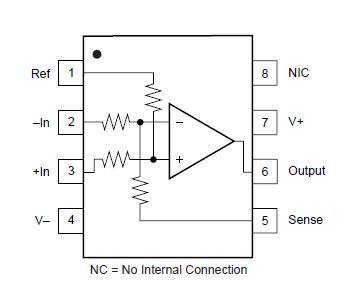 Image
Part No
Mfg
Description
Pricing
(USD)
Quantity

INA154U

Texas Instruments

Differential Amplifiers Hi-Speed Precision

Data Sheet



| | |
| --- | --- |
| 0-1: | $2.23 |
| 1-10: | $2.00 |
| 10-25: | $1.78 |
| 25-50: | $1.68 |


INA154U/2K5

Texas Instruments

Differential Amplifiers Hi-Speed Precision

Data Sheet



| | |
| --- | --- |
| 0-1: | $1.89 |
| 1-10: | $1.70 |
| 10-25: | $1.51 |
| 25-50: | $1.42 |


INA154UA

Texas Instruments

Differential Amplifiers Hi-Speed Precision

Data Sheet



| | |
| --- | --- |
| 0-1: | $1.42 |
| 1-10: | $1.27 |
| 10-25: | $1.13 |
| 25-100: | $0.76 |


INA154U/2K5E4

Texas Instruments

Differential Amplifiers Hi-Speed Precision

Data Sheet



| | |
| --- | --- |
| 0-2010: | $0.94 |
| 2010-2500: | $0.94 |


INA154UAG4

Texas Instruments

Differential Amplifiers Hi-Speed Precision

Data Sheet



| | |
| --- | --- |
| 0-1: | $1.42 |
| 1-10: | $1.27 |
| 10-25: | $1.13 |
| 25-100: | $0.76 |


INA154UA/2K5



IC OPAMP DIFF 3.1MHZ SGL 8SOIC

Data Sheet

Negotiable

INA154UG4

Texas Instruments

Differential Amplifiers Hi-Speed Precision

Data Sheet



| | |
| --- | --- |
| 0-1: | $2.23 |
| 1-10: | $2.00 |
| 10-25: | $1.78 |
| 25-50: | $1.68 |