Product Summary
The S6B-PH-SM4-TB is a thin, low-profile 2.0mm pitch connector 8.0mm in height after mounting and 4.5mm in width. It is designed to meet the demand for high-density connection of internal wires to printed circuit boards. The S6B-PH-SM4-TB is compact, highly reliable and low in cost.
Parametrics
S6B-PH-SM4-TB absolute maximum ratings: (1)Current rating: 2A AC, DC (AWG #24); (2)Voltage rating: 100V AC, DC; (3)Temperature range: -25 to +85℃; (4)Contact resistance: Initial value/10mΩ max. After environmental testing/20mΩ max; (5)Insulation resistance: 1,000MΩ min; (6)Withstanding voltage: 800V AC/minute; (7)Applicable wire: AWG #32 to #24; (8)Applicable PC board thickness: 0.8 to 1.6mm.
Features
S6B-PH-SM4-TB features: (1)Reliable contact; (2)Fully shrouded header; (3)Printed circuit board retention mechanism; (4)Surface mount model (SMT).
Diagrams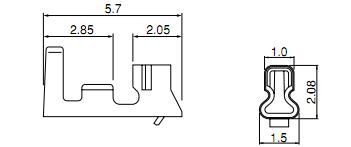 Image
Part No
Mfg
Description
Pricing
(USD)
Quantity

S6B-PH-SM4-TB(LF)(SN)

JST Sales America Inc (VA)

CONN HEADER PH SIDE 6POS 2MM SMD

Data Sheet



| | |
| --- | --- |
| 1-10: | $0.44 |
| 10-100: | $0.37 |
| 100-500: | $0.29 |

Image
Part No
Mfg
Description
Pricing
(USD)
Quantity

S6B-EH

JST Sales America Inc

CONN HEADER EH SIDE 6POS 2.5MM

Data Sheet

Negotiable

S6B-EH(LF)(SN)

JST Sales America Inc

CONN HEADER EH SIDE 6POS 2.5MM

Data Sheet



| | |
| --- | --- |
| 1-10: | $0.12 |
| 10-100: | $0.10 |
| 100-500: | $0.08 |
| 500-1000: | $0.07 |
| 1000-5000: | $0.06 |
| 5000-10000: | $0.05 |


S6B-PH-K-S

JST Sales America Inc

CONN HEADER PH SIDE 6POS 2MM

Data Sheet

Negotiable

S6B-PH-K-S(LF)(SN)

JST Sales America Inc

CONN HEADER PH SIDE 6POS 2MM

Data Sheet



| | |
| --- | --- |
| 1-10: | $0.13 |
| 10-100: | $0.11 |
| 100-500: | $0.08 |
| 500-1000: | $0.07 |
| 1000-5000: | $0.06 |
| 5000-10000: | $0.06 |


S6B-PH-SM4-TB(LF)(SN)

JST Sales America Inc (VA)

CONN HEADER PH SIDE 6POS 2MM SMD

Data Sheet



| | |
| --- | --- |
| 1-10: | $0.44 |
| 10-100: | $0.37 |
| 100-500: | $0.29 |


S6B-RO

NKK Switches

Toggle Switches DPDT ON-ON 10A SOLDER LUG

Data Sheet



| | |
| --- | --- |
| 0-1: | $3.63 |
| 1-25: | $3.39 |
| 25-50: | $3.34 |
| 50-100: | $2.84 |