Product Summary
The MRF377H is an N-Channel Enhancement-Mode Lateral MOSFET. It is Designed for broadband commercial and industrial applications with frequencies from 470 to 860 MHz. The high gain and broadband performance of the MRF377H make it ideal for large-signal, common source amplifier applications in 32 volt digital television transmitter equipment.
Parametrics
MRF377H absolute maximum ratings: (1)Drain-Source Voltage VDSS: - 0.5 V to +65 V; (2)Gate-Source Voltage VGS: - 0.5 V to +15 V; (3)Drain Current - Continuous ID: 17 A; (4)Storage Temperature Range Tstg: - 65℃ to +150℃; (5)Operating Junction Temperature TJ: 200℃.
Features
MRF377H features: (1)Typical Broadband DVBT OFDM Performance @ 470-860 MHz, 32 Volts, IDQ = 2.0 A, 8K Mode, 64 QAM; (2)Typical Broadband ATSC 8VSB Performance @ 470-860 MHz, 32 Volts, IDQ = 2.0 A; (3)Capable of Handling 10:1 VSWR, @ 32 Vdc, 860 MHz, 45 Watts DVBT OFDM Output Power; (4)Characterized with Series Equivalent Large-Signal Impedance Parameters; (5)Internally Input and Output Matched for Ease of Use; (6)Integrated ESD Protection; (7)Excellent Thermal Stability; (8)Lower Thermal Resistance Package.
Diagrams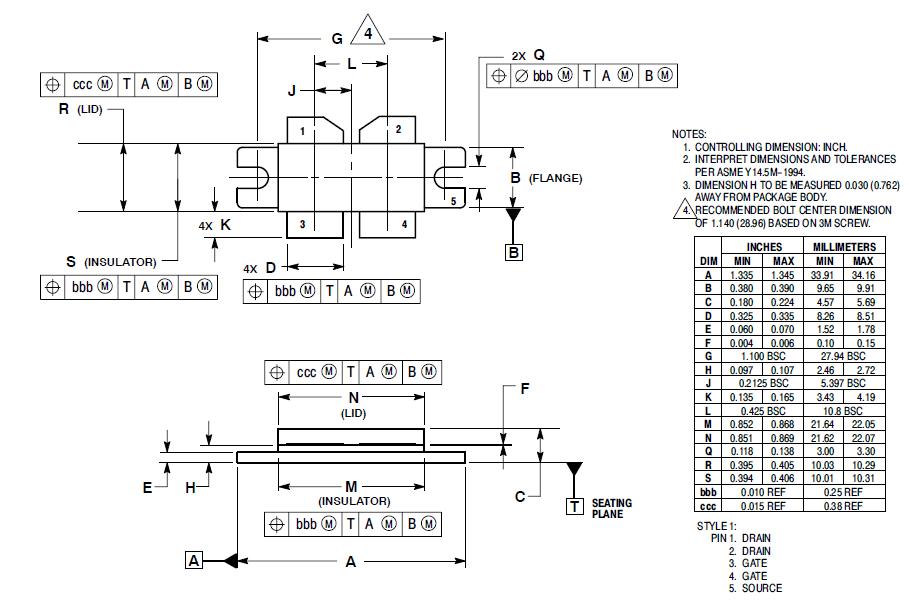 Image
Part No
Mfg
Description
Pricing
(USD)
Quantity

MRF377H

Other



Data Sheet

Negotiable

MRF377HR3

Freescale Semiconductor

Transistors RF MOSFET Power 250W 860MHZ 32V

Data Sheet

Negotiable

MRF377HR5

Freescale Semiconductor

Transistors RF MOSFET Power 250W 860MHZ 32V

Data Sheet

Negotiable